Menu
Do you wish to dine with your Dinnervoucher of € 20,00 at Proeverij de Azijnmakerij too?
You can choose a selection of starters, main courses and desserts. There is always a meat, fish or vegetarian option available.
How does it work?
Book your table online via this website.
Fill in your unique dinner voucher code at the reservation form.
Show your voucher at the restaurant, enjoy your lovely menu and get €20 discount of your total bill.
A maximum of 1 dinner voucher per 2 persons. The menu price of €22.50 is only valid for the first person. The second person pays the normal price of €42.50. See our terms for more information.
Reserve a table
Reserve a table
What 35 people say about Proeverij de Azijnmakerij
79% of the guests recommend this restaurant.
Write a review
---
"Lekker maar heel grote porties "
Heel lekkere gerechten maar de hoeveelheid was te groot waardoor we al vol zaten bij het tweede gerecht. Heel jammer. Ook zou ik niet aanraden om bij de deur te zitten want het tocht. Verder vriendelijke bediening. Kwaliteit van het eten was perfect.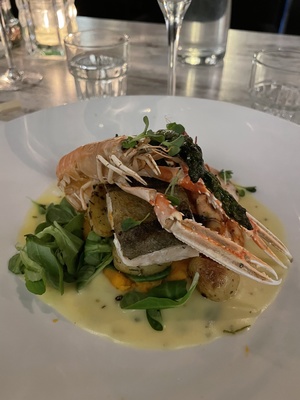 Bilthovenbewoner
at 22 September 2021
Verified
---
"Creatieve kok"
Ons laten verrassen door de keuze van de kok.
Elke gang een feestje op het bord met verschillende smaken en kleuren in bijzondere combinaties.
Mandy
at 22 September 2021
Verified
---
"Lekker eten in Zeist"
De menugangen zijn verrassend, lekker en mooi opgemaakt. Prima prijs prestatie verhouding.
R & M
at 20 September 2021
Verified
---
Heerlijk gegeten, bediening top.
Corry Slootweg
at 12 September 2021
Verified
---
"Aanbevelenswaardig."
een positieve verrassing: goed eten, fijne sfeer met kwaliteitsmuziek op juiste volume en thuisgevoel.
Zeer plezierige en kundige bediening. Dit was niet de laatste keer!
Hans Peek
at 11 September 2021
Verified
Maurikstraat 20 3701 HC Zeist
About Proeverij de Azijnmakerij
Cuisine: International
Restaurant Proeverij de Azijnmakerij is located in a beautiful former vinegar-maker in cozy Zeist. The kitchen team prepares delicious dishes from fresh ingredients. The inspiration for all the phenomenal dishes comes from all over the world, which ensures fantastic taste combinations. Thanks to the friendly wait staff and the casual atmosphere in combination with the culinary dishes, every visit to restaurant Proeverij de Azijnmakerij is an exceptional experience.
Reserve a table
Reserve a table